---
In cirroteuthid and stauroteuthid octopods, portions of the web between the arms have a special modification called the secondary web. This secondary web allows the arm to extend orally while the expanded primary web, inflated by surounding a large volume of water, remains aborally positioned. The definitions of the primary and secondary webs are illustrated in the arm and web cross-sections below left. Below right is a photograph taken of a cirrate near the ocean floor. The upcurved arms clearly show the secondary web which, incorrectly, appears as a membrane separate from the web.
Click on an image to view larger version & data in a new window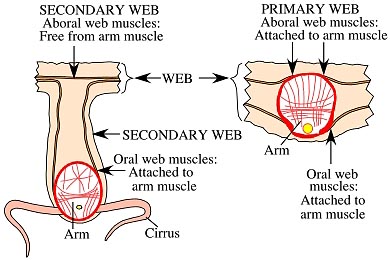 Figure. Left - Cross-sections of the arms and web of Stauroteuthis syrtensis, which has a secondary web, and Cirroctopus glacialis, which lacks a secondary web. Drawings modified from Vecchione and Young (1997). Right - Posterior view of a cirrate with arms spread. Photograph from Roper and Brundage (1972).