Go to jumping spider anatomy page
The muscles of a jumping spider are different from ours in that they operate exoskeletal elements from the inside (our muscles surround the skeletal elements that they operate). Another difference is that fluid pressure is an important skeletal element to a spider.
Click on an image to view larger version & data in a new window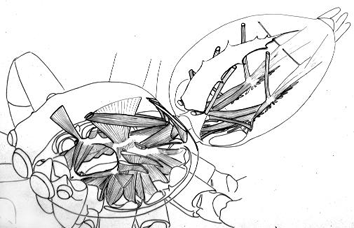 This figure shows the muscles of the lower regions of the body. In the prosoma (cephalothorax) are shown the muscles of the endosternite, a tough membrane that lies over the back part of the brain, just beneath the sucking stomach, and which has muscles suspending it that join to the carapace and leg bases. Shown in both the prosoma and opisthosoma are the muscles that attach near, and probably help control, the waist (or pedicel). In the opisthosoma are also shown the dorsoventral muscles, and the longitudinal muscles that run along the floor of the abdomen and connect to the spinnerets.
In the carapace are many other muscles that join to the base of the legs and control the legs like marionettes. This figure:

Click on an image to view larger version & data in a new window
shows the muscles coming from each leg base and attaching to the back part of the carapace.
<! muscles within legs, muscle cloak around abdomen>
---
Jumping spider anatomy pages:
[Anatomy] [External] [Muscles] [Gut] [Vision] [Palpi] [Epigyna] [Gallery]